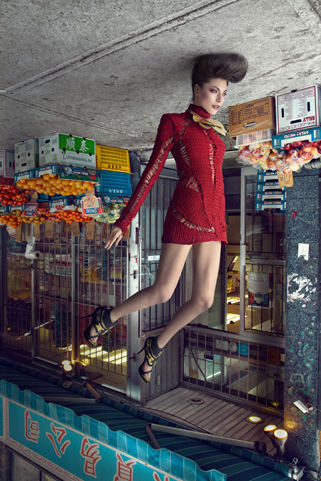 Photographer Captures "Upside Down" Models In Stylish Photo Shoot
Montréal photographer Martin Tremblay's recent shoot commissioned by the prestigious fashion/art magazine SCHÖN! is garnering some richly deserved praise.
Entitled "Fortune Cookie", the shoot reveals Tremblay's unique vision by juxtaposing a deep appreciation, and a healthy irreverence, for fashion images. On the one hand, the photographs indisputably raise the bar of aesthetic standards—the project took two years to research and required 160 hours of retouching—as the photographs are stunning in their beauty and timelessness, perfectly executed down to the slightest detail and nuance. On the other, Tremblay pushes the boundaries of traditional fashion photography by (literally) turning it on its head, forcing us to do a double take, to take a moment to think critically about how we tend to freely let images into our eyes but not our minds.
"I simply wanted to do something different by creating a link between two opposite worlds. As one woman has one experience in the world we see, something else is happening to someone else in exactly that same moment at exactly the opposite end of the globe", says Tremblay.
CREDIT: All rights to Martin Tremblay