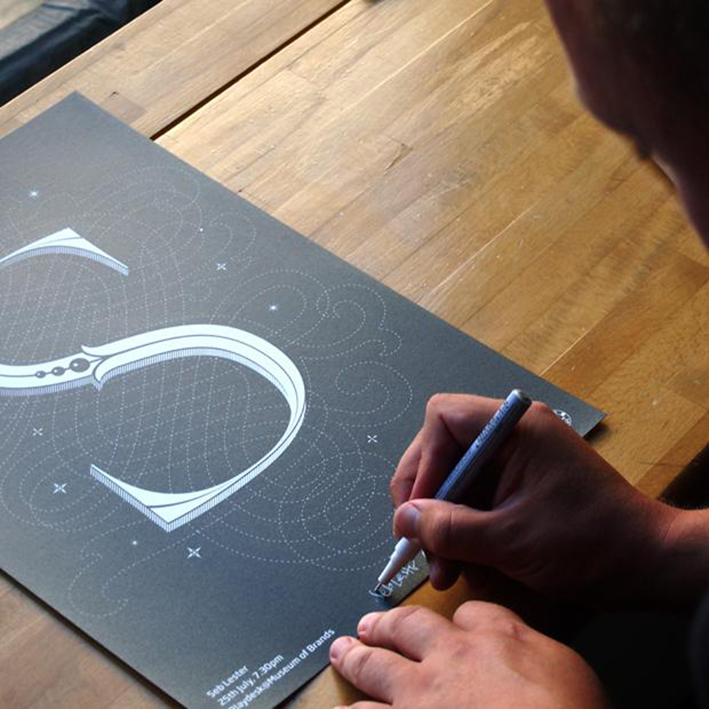 Seb Lester @ Playdesk
"Last Thursday night while most of team Echo were flying high up the Shard, I was down at the Museum of Brands watching type designer and lettering artist Seb Lester talk about his work…
Seb started with a bit of detail about how he first became obsessed with type design; through a fascination with bmx graphics and the discovery of Neville Brodys work. Some of the early work he showed from his time at university included a few really interesting typographic ambigrams which really showed his eye for letterforms and love of wit (which especially shows through some of his more recent work).
Fast forward through what sounds like a difficult time at uni and in the first few years post-graduation, Seb achieved his dream of designing type for a living. In 2000 he began working at Monotype designing corporate typefaces for huge clients such as Waitrose, Barclays, H&M and Intel. At the same time he developed his own retail fonts including two of my personal favourites – Neo Sans and Soho. Seb had some great examples of weird uses of his fonts, such as a fishing magazine using Neo, which he had originally envisioned on the side of a spaceship.
However typeface design had its drawbacks, he felt that he wasn't receiving an appropriate amount of personal recognition considering the amount of hours he had to put into his work. After some not very well received 3D motion work with typography Seb looked to a simpler way of working. Which lead him to calligraphy and hand lettering, and the aesthetic for which he is now very well known. Mainly through the large range of beautiful prints he has sold, and possibly his biggest commission – typographic book covers for J.D. Salinger.
One of my favourite thing about Seb's work is his use of social media to share funny bits and pieces he has drawn, such as elegantly writing rude words, breaking bad news gently with typography and generally writing things that you wouldn't expect to be so beautifully written (shopping lists, movie quotes, silly phrases etc…). He also from time to time beautifully writes the names of randomly selected Facebook fans which is a nice thing to do (see if you can spot my name below).
Overall it was a fascinating talk and it was interesting to get more insight into his varied career. Seb is a really humble and honest person and shows how far passion and dedication can get you. The sheer volume of sketchbooks he gets through is testament to his calligraphy addiction and devotion to developing his skills. It also turns out he grew up on the street where I was born, and minutes from where I lived most of my life, and he did the same foundation course as me but years earlier. Small world!
I came away with a lovely print, designed by Seb and screen printed by A New Star In The Sky. Playdesk is an occasional series of design lectures where all the proceeds go to the speaker's charity of choice."
Find out more about Playdesk
See more of Seb Lester's work
CATEGORY: DESIGN, TYPOGRAPHY
CREDIT: All rights to Seb Lester. Article by Theo Inglis